Quran Tajweed Institute
As every Muslim knows that Allah revealed His last book, the Holy Quran, to His Last Prophet Muhammad (PBUH). The Quran is a complete code of life for every generation till the last day of this world. So, a Muslim must follow the teachings of the Holy Quran throughout his life.
To understand the Quran, it is an obligation to make sure that the Quran must be read, written, and recited in an effective, proficient, accurate, and correct manner. So, there would be no chances of any kind of ambiguity, or misunderstanding, and whatsoever.
Many social experiments are carried out where Non- Muslims are offered to listen to the Quran for the first time. They get emotional by listening to the Quran with Tajweed even if they don't understand what is being said. The fact is that when the Quran is recited with proper Tajweed, even the hardest of hearts get melted. This is the beauty of learning the Quran with Tajweed.
We recite the Quran in every Salah but not all of us follow the Tajweed rules. The impact of reciting the Quran without following Tajweed has no significant impact on our souls.
This statement can be practically experienced in Ramadan. We are in Taraweeh prayer where the Quran is being recited with Tajweed. One can easily find the difference if he goes to some other mosque where the rules of Tajweed are not being followed. Moreover, the importance of learning the Quran correctly is being clarified by Allah in the Holy Quran.
"And recite the Qur'an with measured recitation." [73:4]
A Hadith narrated by Aisha (R.A) illustrates the rewards of reciting the Quran with Tajweed:
"A person who recites the Quran beautifully, smoothly, and specifically will be in the group of prominent angels. And the person who recites it with complication, hesitating, or stumbling through its verses, he will get a double reward." [Al-Bukhari]
Join thousands of Muslim Families who love learning Quran, Arabic and Islamic Studies from the comfort of their Homes.
Learn Quran, Arabic & Islamic Online
Learn With Tajweed Institute
Do you want to learn Quran with Tajweed at the best online Tajweed Institute? The online Quran recitation course will help you reach this goal and read the Quran with confidence in a very short time.
At the end of this course, the student will be able to read the Qur'an fluently, beautifully, and with correct Arabic pronunciation by applying the rules of Tajweed. Whatever your age or level, it is never too late to learn to read the Quran with Tajweed.
Keep In Mind That Learning Quran With Tajweed Is Not An Advanced Science But An Obligation Upon Each And Every Muslim.
Muhammad bin Al-Jazaree the great Qur'an scholar says in his famous poem detailing the rules of Tajweed:
"And applying Tajweed is an issue of absolute necessity, Whoever doesn't apply Tajweed to the Qur'an, then a sinner is he."
The Quran revealed with proper rules of Tajweed. In other words, Gabriel recites the very first revelations of the Holy Prophet in a certain way and shows the Prophet the permissible way of reciting the Quran.
Tajweed Quran Institute
Many Muslim brothers and sisters desire to recite the Quran with Tajweed. To Recite or Memorize the Quran with Tajweed, one must start from the Tajweed Rules Course.
Mishkah Academy is one of the best Online Tajweed Institutes serving Muslims around the globe with Online Quran, Tajweed, Arabic & Islamic Classes at a very reasonable and economical fees. This Online Quran learning Academy provides you with the best Quran Tutors Online with customized plans from the comfort of your home.
Tajweed Rules Course is designed to make students able to recite and memorize the Holy Quran with Tajweed. we aim to make students attain the Itqan (Perfection) Level in Quran Recitation, Memorization or Ijazah.
You May Like To Read
10 Benefits Of Memorizing Quran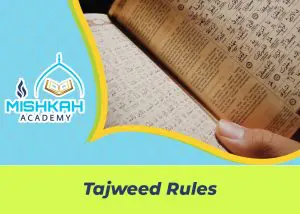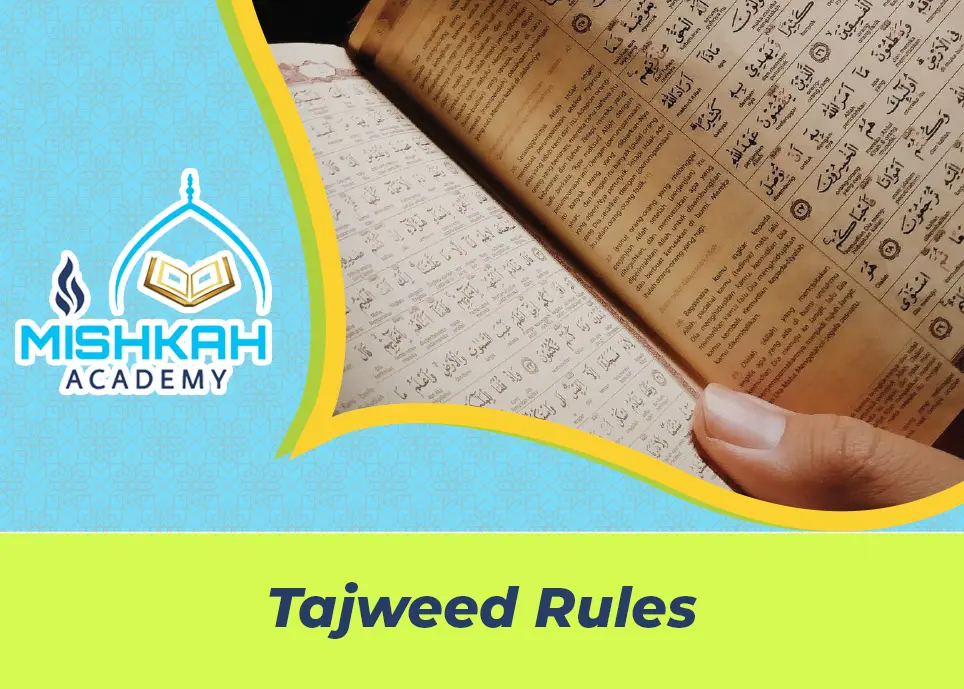 Tajweed Rules Course
Many Muslims may ask: How do I learn Quran Tajweed? Especially those who live in non-Muslim countries and are not close to mosques or Islamic centers. Fortunately, you've just come to the right place!
In just a few clicks, you can learn Quran with Tajweed for kids and adults (males and frmales) of any level, from the comfort of your own home! Mishkah Academy brings you the best online Tajweed course where you can easily learn Tajweed for beginners online step by step and create the study plan that suits you the most.
Tajweed Course Outcomes
The Quran recitation must be taken very seriously. The objective of the science of Tajweed, insignificance, is to make the reciter expert in reciting the Qur'an, identifying the correct pronunciation of every letter with the rulings and traits which apply to it, without any overstatement or shortcoming.
Students will get to know the articulation points and traits of each Arabic letter.
Students will get a strong understanding of the crucial Tajweed rules.
Students will develop practical Tajweed skills that will help to recite the Quran with Tajweed correctly
Students will achieve doubt-free confidence in Quran recitation.
Principles of Tajweed are learned throughout this course.
Distinct Principles like Ikhfa Meem Saakin, Qalb, Gunna, and so on, all are part of the online course.
Students will be able to read any surah from the Quran without any assistance.
Who Can Join Tajweed Course Online
This course is suitable for everyone who wants to improve their Quran recitation with proper tajweed rules. If you are a very beginner, don't worry, we will give you introductory Quran reading lessons first.
Our expert Quran teachers will give you step-by-step guidance, allowing you to learn the Quran with Tajweed online and read it beautifully and correctly.
Best Quran Tajweed Teachers
For some people, it can be difficult to sit down and read the Qur'an from cover to cover with the rules of Tajweed. But at Mishkah Academy we have experienced and highly qualified teachers who know how to stimulate your progress in learning Tajweed. Moreover, we are licensed and supervised by Al-Azhar University. All online Quran teachers graduated from Al-Azhar University and have the educational background to apply Quranic lessons and principles.
Learn Tajweed online the easy way!
You do not have to struggle and make a huge effort to learn tajweed of the Quran. We have developed a teaching method that will help you achieve this goal faster than attempting this great endeavor alone or with unqualified teachers. Our teachers will guide you every step of the way so that you can learn Quran Tajweed with ease. By mastering the recitation of the Qur'an, you can create a life where you live according to its principles and be a good Muslim.
You will love learning the Quran with us!
Our learning platform offers you a step-by-step study program that won't burden you with information about where you should start and what you need to do. First, you will need to complete an initial assessment of your current level of Quran. After that, you can go ahead and create your account. You will be amazed at how easy we have made the learning platform for you to use. On the same day, you will get instant access to the lesson calendar, lesson scheduling and payment system and can start scheduling your first intonation meeting with your teacher!
What do you expect from Quran lessons!
Full online access to your progress and performance based on participation in Quran lessons.
Flexible schedule and everything you need to learn online from the comfort of your home. From the moment you log into your account, you'll get exclusive access to dozens of tutorials for learning the Qur'an, all organized and arranged in an easy-to-follow, easy-to-use step-by-step program. Above all, you will have all the tools to check and track your progress.
About Our Tajweed Institute
Mishkah Academy is a leading institution in teaching the Book of God to non-Arabic speakers. Our expert Quran teachers are committed to helping you learn Quran recitation for completely beginners as well as Quran recitation for kids.
Our goal is to teach our brothers and sisters how to read and recite the Qur'an the right way through a private online Qur'an recitation course. what are you waiting for? Contact us now and start such a rewarding endeavor!
FAQs
Tajweed Institute Masjid
Every Muslim wishes to learn how to recite the Holy Quran with Tajweed Institute Masjid to get the highest reward and ranks in this world as well as the Hereafter by improving Quran recitation and Tajweed Rules. You can learn Quran online with Tajweed from the comfort of your home with the help of our experienced Tajweed Teachers.
Beautiful reading of the Quran is something that many of us desperately desire to achieve. The starting point for the beautification of reading Quran with tajweed is the recitation of the Holy Quran while applying all the rules of Tajweed correctly through enrolling in Quran Tajweed Institute.