Our online Tajweed Course is suitable for both kids and adults. Join us and learn from our certified tutors, who are esteemed graduates from the best universities. They not only serve as faculty members in renowned universities but also act as supervisors in prestigious Islamic institutes.
Our comprehensive Tajweed course is designed to help you master the Tajweed rules and recite the Quran beautifully, following the teachings of the Prophet Muhammad (PBUH). With a focus on both theory and practice, our expert tutors will guide you in understanding and applying Tajweed's linguistic and phonetic rules to enhance your Quran recitation.
From the basics to advanced techniques, we provide the necessary knowledge and skills to excel in reading the Quran with Tajweed. Whether you're a beginner or have some prior knowledge, our course is tailored to accommodate all levels of proficiency.
Enroll in our online Tajweed course today and experience the expertise of our certified tutors who bring a wealth of knowledge from their educational backgrounds and extensive experience in teaching and supervision.
Learn Quran Online With Tajweed
Every Muslim wishes to learn how to recite the Holy Quran with Tajweed Rules to get the highest reward and ranks in this world as well as the Hereafter. You can learn Quran online with Tajweed from the comfort of your home with the help of our experienced Tajweed Teachers.
Beautiful reading of the Quran is something that many of us desperately desire to achieve. The starting point for the beautification of reading Quran with tajweed is the recitation of the Holy Quran while applying all the rules of Tajweed correctly.
Allah AWT said:
"And recite the Qur'an clearly with Tartil (in a distinct and measured tone)."
It is a great virtue to learn Quran with Tajweed and give it its due effort as prophet Muhammad PBUH said:
"The one who is proficient in the recitation of the Qur'an will be with the honorable and obedient scribes (angels) and he who recites the Quran and finds it difficult to recite, doing his best to recite it in the best way possible, will have two rewards." [Al-Bukhari and Muslim]
Tajweed Quran Online
The Quranic Arabic word of the above-mentioned verse:  (Qalb – Arabic: قلب) means "Heart". but if you read it (Kalb – Arabic: كلب) which means "Dog". The entire meaning of the Ayah will be changed, which is a big sin. online tajweed course helps Students avoid such mistakes during while reading Quran.
We welcome students of all ages and levels to join Tajweed Quran Online course using our ready-made curriculum prepared by accredited scholars. Let your Tajweed Journey begin now with a Free evaluation session to determine your level and put suitable study plan for the best online Tajweed Course.
Definition of Tajweed | Tajweed Meaning
The word "Tajweed" means to improve, beautify and make better "It is a set of rules for pronouncing the words of the Quran with their proper characteristics and attributes". Tajweed Quran is the application of Tajweed rules during the recitation of the Holy Quran in the same way as the Prophet Muhammad (PBUH) practiced.
Reading the Quran with Tajweed comes with many rewards for a Muslim. In all the verses of the Holy Qur'an, God Almighty sends a clear message to His creation that the people who believe in the truth of this Holy Book are the ones who recite it in the manner in which it was revealed.
It is the duty and responsibility of every Muslim to recite Quran using the rules of Tajweed because we must respect the word of God and be serious about reading the Quran with Tajweed. This online tajweed course will help you learn Tajweed Rules of Quran.
The purpose of learning Tajweed Rules is to recite Quran as it was revealed by God through Gabriel (PBUH) and recited by the Prophet Muhammad (PBUH), as learning Tajweed protects the reader from making any mistake through wrong pronunciation and misinterpretation of God's message.
By learning Tajweed, you will also gain a better understanding and familiarity with God's words, which will lead to a deeper connection and greater faith in God. Moreover, Tajweed can be considered as the art of reading Quran correctly. The main purpose of reading Quran with Tajweed is to protect and preserve its legacy from distortion.
Tajweed Of Quran Levels
Level 1: Focus on mastering the letters of the Arabic alphabet. In addition, students can read entire words and sentences, allowing them to read Quran with Tajweed independently.
Level 2: Covers the basic rules of tajweed (i.e., the correct Quran recitation with Tajweed), including Noon Sakin, Tanween, Meem Sakin, and some rules for Madd, Ghunnah, and Qalqalah, etc.
Level 3: covers the advanced rules of Tajweed in detail, including the basic rules of reading Quran such as starting, stopping and pausing signs, Advanced Madd, and many advanced rules.
Level 4: is a detailed application of all Tajweed Rules. Students at this level master their recitation and explain the rules of tajweed in detail. After completing the Tajweed program, students will be eligible to apply for Ijazah program.
Rules Of Learning Tajweed
Muhammad bin Al-Jazaree, one of the greatest Tajweed Scholars says:
"And applying Tajweed is an issue of absolute necessity. Whoever doesn't apply Tajweed to the Qur'an, then a sinner is he."
Hence, applying the rules of Tajweed is an obligation upon every Muslim to keep away from the major mistakes in reciting the Quran without Tajweed and committing great sin.
Who Can Join Online Tajweed Course
This online Quran tajweed course is suitable for anyone who wants to improve Quran recitation. If you are very beginner in Quran recitation then don't worry we will give you introductory Quran reading lessons with Tajweed.
Our expert Tajweed teachers will give you step by step instructions that will help you learn to recite Quran beautifully in a very short time. In the introductory chapters, you will learn Noorani Al Qaida, Quran Recitation, Tajweed Rules & Arabic Reading.
What Makes Our Tajweed Institute Special
Tajweed Course Certification 
Mishkah Academy issues a certificate after you are done with the course. It certifies that the particular person has been a student at Mishkah Academy in a specified course. It is a great help if you are planning to teach after learning it.
Course Instructors
They are well-qualified, with a degree from well-known Islamic universities. They have honed their craft through years of experience in the field. Our native Arab tutors are well-versed in English and conduct the courses with extreme professionalism.
Customized Study Plans
One of the main factors that distinguish us is that we do our best to make studying online way easier for you and all your family by giving you the ability to create your own schedule and adjust your available hours any time of the day to what suits you best to keep the individual needs of students in mind.
Joyful Learning 
Mishkah academy covers the Tajweed course with interesting activities to make the learning joyful for you. We design PowerPoint presentations, media, and many other activities for you to get involved in the classes and increase your credibility.
Rewards & Certification
Mishkah academy offers competition between students to motivate them to learn with more focus and devotion. Students are also rewarded with gifts and certificates.
The first step for Tajweed is learning how to read Quran properly in Arabic first.
Course Structure
Class Type: One-On-One

Levels: Beginner, Intermediate, Advanced

Requirements: Reading

Age: 6 – 60
Start Your Tajweed Journey Now
Online Quran Tajweed Classes
The Quran was revealed with Tajweed, and our Prophet Muhammad (PBUH) used to read Quran with Tajweed and teach it to his companions. Now it is our duty to teach you the rules of Tajweed and your duty is to learn to recite Quran correctly as it was revealed.
The main objective of the online Quran tajweed classes is to help students to recite the Quran beautifully. Our teachers will help you apply all the rules of tajweed efficiently. The course is designed to cover any of the ten readings of the Holy Quran.
The Tajweed Rules course includes 4 levels for learning Tajweed rules of the Quran, in addition to an approved curriculum for the most famous books of Tajweed, which helps the student to learn Quran with Tajweed in the way it was revealed to the Prophet Muhammad (PBUH).
Tajweed Institute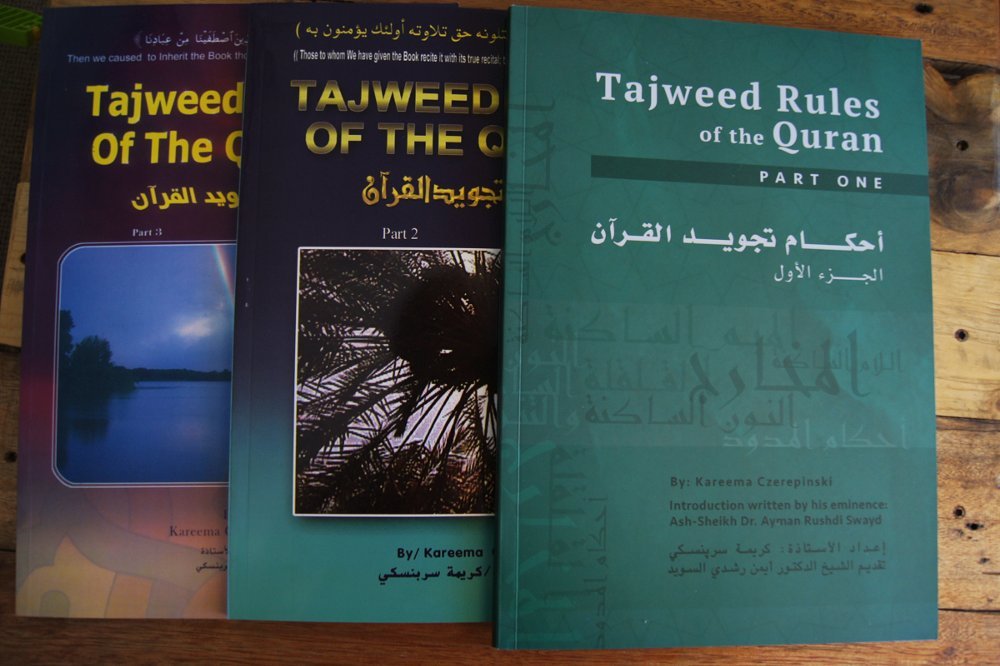 There is no doubt that learning Tajweed rules without a Tajweed Teacher is a bit difficult. Therefore, students need a well-qualified guide to learn all the theoretical and practical rules of Tajweed. This helps the students to recite Quran correctly to reach the level of proficiency in reciting Quran with a continuous chain of narrators (Sanad) associated with the Prophet Muhammad (PBUH).
Learn Tajweed Quran Online
These Online Tajweed Course are the best for kids and adults alike who have passed the assessment of the Arabic Foundation Course (Noorani Al Qaida Course) and can read the Quran in Arabic. This course is designed to cover all levels of Tajweed (beginner to advanced) so that the student can read Quran correctly with Tajweed.
In these levels of the Tajweed course, students will study the rules of Tajweed with the help of our competent and qualified Quran teachers. They will learn every rule from beginner to advanced level of reading and reciting the Quran with Tajweed. This advanced level of Tajweed will help students move on to Ijazah Level (Tajweed Certificate).
Tajweed Course Certificate
The Holy Quran is the book of God Almighty. For this reason, every Muslim who loves and respects the Holy Quran must read it according to the rules of tajweed. But many of us do not realize that reciting Quran correctly, observing the rules of tajweed is not an advanced science for experienced reciters only, but rather it is a duty for each of us whenever we read the Quran.
The Messenger of Allah(PBUH) said:
"The one who is proficient with the Quran will be with the noble and righteous angels, and the one who reads it and stumbles over it, finding it difficult, will have a double reward."
Tajweed Lessons Online
There are tremendous Virtues Of Reading Quran With Tajweed, including:
✔ Learning Quran with Tajweed is important for all of us to avoid fatal mistakes in reciting the Quran.
✔ Learn to read Quran with tajweed, as the Quran will come as an intercessor for its reciters on the Day of Resurrection.
✔ Learning Tajweed rules is an opportunity to gain countless good deeds while reading, reciting or memorizing the Holy Quran.
✔ Whoever recites the Qur'an with intonation will be in the company of obedient and honorable angels in the afterlife.
✔ The Quran creates a close connection between you and God and increases the love of God Almighty in your heart and brings you closer to your Lord and Creator.
Recommended Courses
Why Is Tajweed rules so important to learn

!
FAQs
Tajweed for Beginners
Every Muslim wants to learn Quran in Tajweed and asks how to learn Tajweed rules for beginners because it can be a difficult task, especially for those whose first language is not Arabic. One of the best tips to learn Tajweed for beginners whose mother tongue is not Arabic is to join Online Tajweed Course until you master Tajweed Rules with the help of expert Tajweed Tutors.
Online Tajweed Course would take 3 to 6 months. But it undoubtedly varies from one student to another. This means that the average student can get the basics of mastering recitation in a couple of months if he takes two hours a week regularly and continues to practice at home.
How to learn Quran with Tajweed at home
If you want to learn Quran with Tajweed at home, Mishkah Academy is a great platform for learning Quran & Tajweed. We provide Tajweed Learning Classes for Male/Female Kids and Adults with Certified Tajweed Teachers.
Learn Quran with Tajweed for beginners
If you want to learn Tajweed Rules then join Online Tajweed Course, Mishkah academy is a great Quran school for learning Tajweed for beginners. If you are just starting out, do check out our Best Online Tajweed Course with Tajweed Classes for Beginners.
Learn the Tajweed Rules online
This course takes a step-by-step approach to learning proper Tajweed and Quran Recitation. You will learn Tajweed Rules and How to Recite Quran Properly from Certified Tajweed Quran Teachers.
Best programs to learn Quran with Tajweed
This Course is designed to improve reading & recitation of the Holy Quran students. And to attain the Itqan Level (Perfection) in learning Tajweed Online with continuous sanad (chain) connected to Prophet Muhammad (PBUH). Our Online Tajweed Course is the best for both adults and kids who passed the evaluation of the Foundation Course .
History Of Tajweed
Islam also spread in different regions of the world, and non-Arabs began to mix with Arabs. Scholars at the time noticed errors in the recitation of the Qur'an because non-Arabs were not familiar with the language. Scholars set the rules of the Holy Qur'an and called them the provisions of intonation. These rules were not originally designed by these scholars, they just gave them the shape of a rule. These rules were introduced and practiced by the Prophet Muhammad (PBUH).
Learn Quran with Tajweed online free
We are spreading the light of Islam through our free online tajweed course. This course is free of cost for those who desire to learn Quran with the correct pronunciation. So, if you want to improve your Quran reading, join us for a free Tajweed Al Quran course.
Is Tajweed obligatory in salah
It is true that recitation of the Quran according to the rules of Tajweed is not obligatory. Tajweed is only a way to make the recitation more beautiful. If a person reads and pronounces the letters clearly using the vowels as shown, then this is sufficient. A Muslim is recommended to observe the rules of Tajweed, which are related to the characteristics of the letters and the way they are pronounced, because the inability to do so may change the meaning.
This set of 3 popular books on learning the rules of Tajweed in the Qur'an will help to understand the rules of Tajweed and correct their recitation with the help of a teacher. God willing. They are also great Islamic schools and Quran teachers to teach their students.