"The best among you (Muslims) are those who learn the Quran and teach it."
Benefits Of Reading & Reciting Surah Mulk
Surah Al Mulk is one of the greatest blessings of Allah SWT over mankind. Various Hadiths indicate the importance of Surah Al Mulk. This Surah of 30 ayahs is the 67th Surah of the Quran. It was revealed to the Prophet Muhammad (PBUH) in the Makkah, hence it is a Makki Surah. The meaning of Al Mulk is Sovereignty or Kingdom. It was also known as Surah Al-Maani'a, the preventive, at the time of the Prophet (PBUH).
Messenger of Allah (PBUH) says:
"There is a Surah in the Quran which contains thirty Ayat which kept interceding for a man until his sins are forgiven. This Surah is 'Blessed is He in Whose Hand is the dominion.' (Surah Al Mulk 67)."
Narrated Ibn 'Abbas:
"One of the companions of the Prophet (PBUH) pitched a tent on a grave without knowing that it was a grave. Suddenly he heard a person from the grave reciting Surah Al Mulk till he completed it. So he went to the Prophet (PBUH) and said: 'Oh Messenger of Allah, I pitched my tent on a grave without realizing that it was a grave. Then Suddenly I heard a person from the grave reciting Surah Al Mulk till he completed it.' The Messenger of Allah (PBUH) said: 'It is the defender; it is the deliverer- it delivers from the punishment of the grave.'"
The hadith clearly states the importance of Surah Al Mulk. Undoubtedly, human beings make many mistakes knowingly and unknowingly. And it is no hidden fact that our deeds will reflect in our graves too. But Allah SWT is Ar-Raheem. He has sent the Quran as mercy. And one such Surah of Mercy is Surah Al Mulk which will protect us from the torment of the graves.
Importance Of Surah Al Mulk
Surah Al Mulk reflects on the purpose of Creation, life and death, tests, and our deeds. This beautiful Surah tells about the perfect Creation of Heaven and Earth by Allah SWT. It also makes a believer aware of the hellfire. And that Allah is the Supreme Power and He knows what we conceal and publicize. Indeed, He is Al-Aleem, the All-Knowing. Allah SWT has made our hearts assured because He is the ultimate Provider for all mankind. Deep reflection of Surah Al Mulk makes us realize Allah's creation, provision, warning, and power!
Start learning Quran, Arabic and Islamic Studies Online from the comfort of your Home with the Best Online Islamic School!
Learn Quran, Arabic & Islamic Online
Virtues Of Surah Al Mulk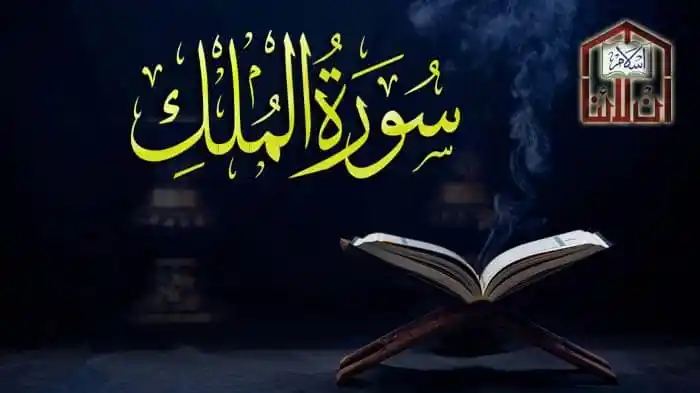 1- Reading Surah Al Mulk gets your sins forgiven on Judgment Day.
Many Hadiths notable scriptures advocate it. Undoubtedly, when a believer recites Surah Al Mulk, he recites it with a belief that it will intercede for the reciter's sins to be forgiven on Judgment day. These hadiths motivate us to read and recite Surah Al Mulk more and more.
2- Reading Surah Al Mulk before sleeping is a part of Sunnah and it protects the reciter from the torment of the grave.
Prophet Muhammad (PBUH) said:
"It (Surah Al Mulk) is a protector; a rescuer; saving from the chastisement of the grave."
'Whoever reads Tabarak Allazee Biyadihil Mulk Surah every night, Allah SWT avoids him from the grave's torment, and in the past we (the companions) when the Messenger (PBUH) (still alive) called it by the name, "Al-Mani'ah"
3- Reading Surah Al Mulk before sleeping helps you in following another Sunnah.
Jabir (R.A) said:
"The Prophet (PBUH) would not sleep until he recited surah Alif  laam meem Tanzeel (Surah Sajdah) and Surah Tabarak (Surah Al Mulk)." (Jami'at-Tirmidhi)
4- Reading Surah Al Mulk will make its reciter enter paradise.
The Messenger of Allah (PBUH) said:
"There is a chapter of the Quran that will argue on behalf of its reciter until it causes him to enter into Paradise. It is: (Blessed be He in Whose Hand is the dominion) that is Surah Al Mulk."
5- Reciting Surah Al Mulk helps us demand Salvation from Allah SWT
Abdullah ibn Abbas (R.A) said: "Personally, recite Surah Al Mulk and teach it to your wife, children and to all the other children who live in your home, and even to your neighbors, because it is that which grants salvation, and it will firmly demand (for your) salvation from Allah.
6- Reciting Surah Al Mulk makes you earn many rewards and good deeds.
Narrated Muhammad bin Ka'b Al-Qurazi:
"I heard 'Abdullah bin Mas'ud said: 'The Messenger of Allah (PBUH) said: "Whoever recites a letter from Allah's Book, then he receives the reward from it, and the reward of ten the likes of it. I do not say that Alif Laam Meem is a letter, but Alif is a letter, Laam is a letter and Meem is a letter."
7- Surah Al Mulk boosts our Imaan and keeps us on the right path.
Sadly, we are in an era in which depression and anxiety are common. Many people relate to the lyrics of the songs and prefer going to bed listening to them. We end our day in gloom and wake up the next day carrying the same energy. However, reciting and reflecting on Surah Al Mulk before going to bed can make us aware of the true meaning of life. It can act as a great vessel to connect ourselves with Allah SWT and keep our Imaan high.
You May Like To Read
10 Benefits Of Memorizing Quran
10 Benefits Of Learning Quran Online
Recommended Courses
Tips To Memorize Surah Al Mulk Efficiently
Make strong Niyyah or intention to memorize it.
Set goals for each day. For example, set the goal to memorize two verses each day.
Keep your goals small to memorize the Surah efficiently.
While memorizing, make sure to listen to the audio of the Surah. It will help in memorization as well as pronunciations.
Make sure you revise the learned ayahs every day. You can revise them altogether after any prayer or before sleeping.
Set a day to repeat the memorized verses only. For example, you may not learn any new verses on Sunday but revise memorized ones and improve your tajweed.
Make space to reflect on the Ayah deeply and understand its meaning.
Take the help of a Quran teacher to memorize the Surah. This will help you in Quran memorization altogether.
How Long To Memorize Surah Al Mulk
Memorization of the Quran is indeed made easy for those who want to memorize it whole-heartedly. The beauty of Surah Al-Mulk is that it has 30 verses. Even if a person learns one verse a day, he/she will be able to memorize it in a month. SubhanAllah! If you have high retention capabilities, try to memorize three verses each day to memorize it wholly within 10 days. Don't forget to revise it often and take the help of the Quran teacher online to learn it fully with efficiency.
Memorize Surah Al Mulk Online
Join Quran Memorization Course
Reading and reciting this surah brings many virtues but are not like memorizing it. Hifz this Surah brings the Muslim unmatched virtues. With Quran Memorization Course at Mishkah Academy, you or your kids can memorize this surah, other surahs, or any chapter of the Quran in the quickest time possible with high accuracy through professional tutors who are Hafiz of the Quran and holding Ijazah.
Read Surah Al Mulk Online
The first step is to learn how to read Quran in Arabic correctly. This can be undertaken by joining Our Quran Recitation Course which will help you to learn the fundamentals of reading the Quran online with the best Quran tutors on the internet.
Learn Surah Al Mulk With Tajweed
It's recommended to recite Quran with Tajweed as the prophet Muhammad (PBUH) did. This can be undertaken by Tajweed Online Course. In our online Tajweed classes for kids & adults, Our specialized Quran instructors will walk with you or your children from the essentials to the perfection level in tajweed and Quran recitation.
Learn Tafseer Surah Al Mulk
In order to truly understand the greatness of every surah in the Quran, you should learn Tafseer. Our OnlineTafsir Quran Course will enable you or your kids to comprehend the verses, the values, manners, teachings, and obligations of this surah or any other surahs with the assistance of Certifies Islamic Tutors with significant experience.
Conclusion
Surah Al Mulk holds an unduly importance for mankind. Like other Surahs of the Holy Quran, it is filled with many benefits. Various hadiths show its importance as it saves us from the torment of the grave. It also paves our way to paradise. And, it also gets our sins forgiven. Reciting this Surah at night has great importance. Every believer should memorize and recite it to attain great rewards in this world and Hereafter.
Mishkah Academy is one such online institution that helps you learn and study the Quran, Tajweed, and Arabic by expert teachers online from the comfort of your home. Learn about Islamic studies such as Fiqh, Tafseer, Hadith, Sunnah, and many more to develop a full understanding of our religion. Our versatile courses are designed and delivered by Arab tutors that help you learn deeply about Islam.
Surah Mulk Translation