"THE BEST AMONG YOU (MUSLIMS) ARE THOSE WHO LEARN THE QUR'AN AND TEACH IT."
How To Start Learning Quran For Beginners
Learning Quran online has become an increasingly popular option in recent years. With busy schedules and limited access to mosques or Islamic centers, online Quran classes provide a convenient and flexible way to study the holy book. However, it is important to choose the right platform and approach to make the most out of your online Quran learning journey.
Firstly, it is essential to find a reputable Quran learning website or tutor. Several online resources offer Quran classes, but not all of them may be reliable. Look for a website with good reviews and testimonials from previous students. It is also recommended to ask for recommendations from people you trust. The online Quran tutor should have a good grasp of the Arabic language and Tajweed, which is the correct way of reciting the Quran. They should also have experience in teaching the Quran to students from different age groups and backgrounds.
Secondly, set realistic goals and establish a schedule. Learning the Quran requires commitment, dedication, and consistency. Decide on the time and frequency of your Quran classes based on your availability and stick to it. It is important to stay motivated and patient throughout the process. Learning the Quran is a lifelong journey and requires continuous effort and dedication.
In conclusion, online Quran learning can be a fulfilling and effective way to connect with the holy book. Finding a reliable Quran tutor and setting realistic goals and schedule can help you achieve your Quranic learning objectives. Make sure to approach your Quran learning journey with an open mind, patience, and dedication to make the most out of the experience.
Start learning Quran, Arabic and Islamic Studies from the comfort of your Home with the Best Online Islamic School.
Learn Quran, Arabic & Islamic Online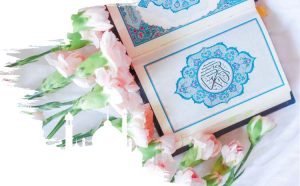 Tips On How To Start Learning Quran
It is essential to know how and where to start in an organized way. We have listed below some useful tips of Quran Learning for beginners.
1. Learn the Arabic Language
Are you new to the Arabic language and want to learn it to understand Quran? This is the perfect time and place to start.
Understanding Arabic is the 1st step towards the Quran learning goal. Starting with the letters, their formation, articulation points, rules, and application, and ending up with reading verses of the Quran smoothly and fluently. All this is required to be learned in order to get on the track of Quran learning.
2. Start With the Easier Portion
So, by now you must have got a good grip on reading verses of the Quran. The next tip is to go easy on your reading. Beginners don't need to read Quran in the given order. You can start reading the short and easy surah first to gain perfection and then can read longer surahs for further practice of Arabic rules.
3. Practice What You Learn
Arabic is the only language that needs revision and reading practice because many similar letters have different articulation points that are mixed up by non-Arab readers. So, our 3rd tip is to practice Quran reading more and more to reach the point of excellence.
Tajweed comes in here! To read by beautifying each letter and giving its due recognition is all it means. The more you are reading Quran with Tajweed, the better will be your recitation.
4. Join Online Quran Classes
Our 4th tip is to join Online Quran classes for learning Quran for beginners. They already have a systematic way to teach beginners in a step-by-step approach where newbies are not let get exhausted, bored, or burdened. The strategies, time, learning plan, and everything is synchronised to help starters enjoy their online Quran learning expedition.
We provide you with the following facilities to make your Quran classes a phenomenal experience.
Certified professional tutors.
The convenience of All-Time-Reach.
Methodical Quran Learning Plan
2 FREE Introductory classes.
Evaluation card system via the portal.
How To Start Reading & Memorizing Quran
Taking a formal course is much better than learning on your own. The reason we offer such a huge variety of Quran courses is to make beginners feel relaxed to start with the basic ones and proceed with their learning capacity.
Scan through the courses' list to have an idea of where to start.
How To Start Learning Quran For Beginners
Join Quran For Beginners Course
As the name indicates, this course will mainly deal with teaching Quran to new learners. A Beginner can be anyone; a newly reverted, a Muslim Kid, or A Western Muslim adult. Our Noorani Qaida Course is the bridgehead for new learners. This course teaches you the essentials of the Arabic language through the world's best-recognized Book Noorani Qaiddesigneds designed by keeping all the basic and mandatory requirements of Qiran reading into consideration.
Noorani Qaida will end up teaching you how to read Quran. You will enjoy every single lesson because we have many interactive and fun-filled activities for kids and adults.
How To Start Reading Quran
Join Quran Recitation Course
After being able to read verses from the Quran smoothly with the basic rules the next step is to learn Quran Recitation. Recitation means to read by pronouncing each letter with its correct articulation,  pausing where it is required, and stopping where it is asked.
In this course, you will learn the science of Tajweed in great detail. The syllabus is divided into 3 levels that are concocted to make beginners complete each level easily and perfectly. We will start with the short and easy Surahs to help newbies learn to read Quran online with Tajweed efficiently and confidently. Our qualified teachers make sure the speed is kept controlled to let all the alphabet be pronounced utterly and the voice is beautified as much as the reciter could.
How To Start Memorizing Quran
Join Quran Memorization Course
So now you how to read and recite the book of Allah, the next course is to start memorizing the verses and revise them in salah or when and wherever you want to. Quran Memorization is totally up to you, whether you want to hifz whole Book or some selected surahs.
This course is personalized for the student as per their choice. We recommend beginners start with the last juz and easy surahs to become confident enough to move on to the arduous ones. Our memorization classes are held along with the daily revision of the previous lessons to make the verses imprinted in memory chips forever.
You May Like To Read
10 Benefits Of Learning Quran Online
10 Benefits Of Memorizing Quran
Recommended Courses
Final Words
With the advancement of technology, learning Quran online has become more accessible than ever. To learn Quran online, the first step is to find a reputable online Quran academy. This can be done by researching and reading online reviews or asking for recommendations from friends and family. Once a reliable academy has been selected, students can enroll in their preferred courses, whether that be Quran recitation or Quranic Arabic.
After enrolling, students will be assigned a teacher who will conduct online Quran classes through video conferencing platforms like Skype or Zoom. Classes are conducted in real-time, where the teacher will guide students through the course curriculum and provide personalized feedback on their progress. To maximize learning, students should commit to a study schedule and allocate sufficient time to practice outside of class hours.
Finally, supplemental resources such as Quranic mobile applications, online resources, and podcasts can be utilized to further enhance learning. These resources offer additional opportunities to practice Quran recitation, memorization, and comprehension, while keeping students engaged with daily Quranic readings. In conclusion, learning Quran online is convenient and accessible, but it requires discipline and dedication. By following these steps and utilizing supplementary resources, students can effectively learn Quran online and deepen their knowledge of the Quran.