Do you want to become a Hafiz?
Need to master Tajweed Rules?
Do you want to become a good Qari?
We are one of the Best Online Quran Schools that help Students achieve their dream of memorizing the Holy Quran. Our Hifz Classes for Adults are aimed not only to make you a good Hafiz but also to make you apply the Quran, with Tajweed principles perfectly, by the help of certified Hafiz Tutors who can speak Arabic and English.
The Holy Quran has so many great virtues in this world as well as the hereafter. It is an ultimate guide that shapes our character, personality, and lifestyle to be better Muslims to get the highest ranks in Jannah. Indeed, life with the Quran is a happy and content life as it keeps our hearts at rest and at peace.
Who Can Join Our Hifz Classes For Adults?
– Those who want to memorize the entire Quran.
– Those who want to memorize a few Surahs or Juz.
– Those who want to strengthen their Hifz.
– Those who want to strengthen Tajweed Rules.
– Those who want to improve their Quran Recitation.
Online Quran Learning For Adults
This course has been designed with the highest quality standards and everything is well planned so that learning is easy and helpful for the students who are interested in learning Quran from experienced tutors from the comfort of their homes with 100% satisfaction.
And this is how the process begins… For those who want to join our Online Hifz Classes for adults, first of all, the level assessment is done. Then, a program is prepared according to level and goals. In this part, it should not be forgotten that Hifz is not just a memorization process, but a goal that requires effort and dedication.
The more frequent the lessons, the more beneficial the process will be for both the student and the tutor. Efficiency in such Online Hifz Classes is doubled and the foundations of Hifz are laid solid. The last and most important thing to start with is your will and determination. Remember that a good start will get you halfway through.
Speaking of the road, If you are determined to engrave the light of Quran in your heart and mind but you need a guide to get you to your destination in the best way possible, you are at the right place in Mishkah Academy!
What Makes Our Best Quran Hifz School Exceptional?
When you start your Online Hifz Journey with Mishkah Academy, you will first be subjected to a free level assessment. Then, if you want to attend regular classes, a program is organized in the most ideal way to help you reach your goal easily in a very short time.
The number of lessons per week will be directly proportional to the speed of reaching your goal. The more repetitions and memorization lessons you have, the faster you will complete your Hifz Insha Allah.
Another factor that makes our institution one of the Best Online Hifz Schools is that we have female and male teachers who are also hafiz.
The fact that our tutors are Certified Native Arabs speaking English fluently provides great convenience for students and increases the ease of communication to a satisfactory level.
It is a great advantage to focus on the meanings of the verses and the fact that our teachers who do this are already native Arabic speakers. Knowing the meanings of the verses while Hifz means more solid memorization.
We provide a learning environment where you will keep your motivation high. First of all, the fact that you have the opportunity to choose the teacher as female or male gives you a more comfortable environment. Having a teacher who follows your memorization instead of a crowded classroom environment gives you full attention and you are always at the center of the lessons.
Your Hifz journey will exceed your expectations with our Hifz certified teachers who will give this training in the best way!
Learning To Read Quran For Adults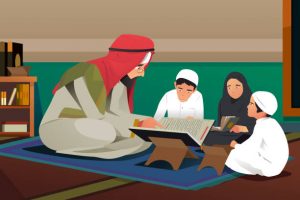 Modern technology has given us a new and far-reaching way of teaching the verses and lessons of the Quran to students of Islam all over the world. Currently, our online Quran teachers assist learners in nearly 100 countries. Utilizing the most advanced twenty-first-century technology, Mishkah Academy brings the teachings of the Holy Quran into the comfort and safety of your home.
We offer free trial lessons to help you find the courses and instructors that are the best fit for your Quran learning needs and interests. Once you've chosen the teachers and subjects you prefer, you can register for Quran classes.
Why Our Quran Hifz Course For Adults Is The Best?
Here is a list of 10 reasons why Mishkah Academy is the best place for Hifz:
– Mishkah Academy Has Azhary certified M/F Teachers.
– We offer 1-on-1 online quran classes for kids & adults.
– We choose the best tutors with the best communication skills for you.
– Our teachers are Native Arab Tutors fluent in English.
– We increase your knowledge of Tajweed and Recitation, not just Memorization "Hifz".
– We also teach Tafseer, Quranic Arabic & Ijazah.
Hifz Quran Course For Adults
If you are looking for an Institute where you can make Hifz online with just a few clicks, contact us!
We are ready to be your companion and guide you in the best way in this process with our qualified staff, special Hifz program for adults, and permanent and effective teaching techniques.
Whenever you're in the World, you can join our Online Hifz Classes for Adults with the help of Native Arab Tutors thanks to technology that removes distances with one click!
Quran Group Class "Halaqah"
In this course, we have structured the lessons with the help of advanced technology so that we can easily manage this online group course and teachers can focus on each student according to the needs of the students to achieve perfect Quran recitation. The course is conducted in Arabic and English so that students will not have any difficulty in completing the course.
How To Hifz Quran Online
Mishkah Academy guides you on how to proceed and where to start before starting the Hifz process by making a free-level assessment for its new students. It turns this patience-requiring process into a fun and satisfying process with its dynamic educational staff. To get started for free, all you have to do is click and contact us!
How to become a Hafiz?
The first thing you need is proper guidance by joining Quran courses or choose to continue Online Hifz Classes for Adults.
Procrastination will always put you one step behind and hinder your progress. In any case, one must be willing and stable so that his efforts will come to an end. Always remind yourself of the following steps:
Meet with an expert Quran tutor and chart how to proceed.
Do not miss the opportunity to use technology to your advantage and have one-on-one Hifz Quran online lessons with your teacher, even in the comfort of your home.
Quran Lessons For Adults
Start your lessons now for free with our experienced tutors!

What Makes Our Quran Hifz Course Special?
– Excellent Quran memorization teachers for best Hifz class output!
– Well-articulated plan of Hifz Quran for adults!
– Progress reports to track your progress in Hifz Quran online!
– Best personalized 1 to 1 online Hifz classes for adults!
– Encouraging environment for adults Quran Hifz course!
– Hifz Quran classes for ladies with female tutors too!
– Competitions between our Hifz students!
– Best Online Quran Hifz with Our Interactive Group Classes!
– Pocket-friendly fee structure of Quran Hifz for adults!
– The productive outcomes of our Hifz course for adults!
– TWO FREE trials with 2 different Hifz teachers!
Welcome To Mishkah Family!
Join millions of people from all over the world who are Hafiz online and take lessons from experienced, native Arab and Hafiz teachers wherever you are! All you have to do is click the link and try it for free today!
We look forward to providing you with a fun, dynamic learning environment! If you too, join the Muslims who become Hafiz through online Hifz courses from all over the world and choose the most practical way to prepare for the Hereafter while the flow of their lives continues!
Contact us now and start your lessons for free! Remember, no matter where you are from in the world, there is only one way to be reached as Muslims, and that is the consent of Allah. We are just one click away to accompany you on this beautiful road!
Recommended Courses
Course Structure
Class Type: 1-on-1 or Group Class.

Levels: Beginner, Intermediate & Advanced.

Requirements: None.