"THE BEST AMONG YOU (MUSLIMS) ARE THOSE WHO LEARN THE QUR'AN AND TEACH IT."
Online Quran Teacher Egypt
Many new Muslims want to learn Quran and to learn about their religion, Islam. So, they are always seeking for finding qualified Quran teachers, unfortunately, most of them are in non-Arab countries so they have limited Quran teachers. And, there are many regions that have no Quran teachers at all, that is what brings the idea of Online Quran learning.
Egyptian Arabic and Quran Teachers online can be hired for the lessons of the Holy Quran for yourself and for your kids. An Arab teacher from Egypt will have more knowledge of Tajweed and practice of recitation of the Holy Quran. Egypt is known as a center of masters of recitation as there have been many famous Qaris (reciters) of the Quran. The most famous are Qari Siddique Ahmed Minshawi and Qari Abdul Basit. It is said the Quran was revealed in Arab and recited by Egyptians.
Why do people want to learn with an Egyptian Quran teacher?
Many people want to have a Quran teacher to have Quran classes and lessons but they desired to have an Egyptian Quran teacher. This is because of the fact that they really know the truth about the tone of the recitation of Egyptian people and their sound knowledge and understanding of how to read the Quran ability.
When an Arab Egyptian teacher recites the Quran, you can really feel the heart-touching voice and its ups and downs in the recitation. They know the meanings of the verse they recite. When anyone recites they keep the meaning of the Quran in mind that is more important for reading the Quran with understanding and to affect the heart as well. That's the secret behind the search for an Egyptian Quran teacher online. We have female Egyptian Quran teachers as well.
Do you need an Egyptian Arabic and Quran Teachers like this?
If you wish to have a Quran teacher who has such qualities as this, then you are at the right place that you choose TarteeleQuran. We hire for you the Egyptian Quran teachers and train them to teach online. Our experts offer the job for them online and then conduct the interviews. Depending on their qualification we hire those who are best in reading and teaching the core subject of Tajweed and Tarteel.
They have certificates of teaching Qirats and other famous Tajweed books like Shatibiyah, Jazariyyah, and even all the Ten Qiraat as well. If you wish to have such a teacher let us know and we will offer you a free trial class for that.
Start learning Quran, Arabic and Islamic Studies from the comfort of your Home with the Best Online Islamic School.
Learn Quran, Arabic & Islamic Online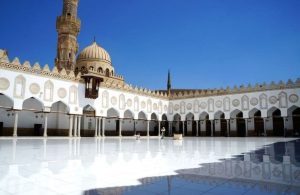 Best Egyptian Quran Teachers
There are many online platforms and online academies that provide online learning for Quran and Islamic studies, so now new Muslims can learn Quran easily at home.
Now it is time to choose teachers, online learning classes provide many teachers and an unlimited number of Quran teachers, so, students can choose whoever, to be educated by.
Most Quran teachers are Egyptian teachers, many Egyptians learn English and study Islamic studies, so they have a very good accent, if it is not fluent Also, they have a great background in Islamic studies because they have studied it before in Al Azhar, Al Azhar is in Egypt, it educates all the students about everything related to Islam.
That makes Egyptian Quran teachers are the most required in teaching Quran all over the world not only because of their knowledge of Islamic studies and English accent but also their background and their culture of their native language, Arabic. Many new Muslims seek for learning Arabic and learning how to pronounce Arabic letters in Quran as Quran is in Arabic.
What distinguishes Egyptian Quran teachers from the other Quran teachers?
Egyptian Quran teachers have a great knowledge of three things:
English accent which is the most well-known among the students all over the world, students interact with Quran teachers by the English language. So, the Egyptian Teachers mostly are very good at English to be qualified in such a job.
Islamic studies, Egyptian teachers have great knowledge in the Islamic studies as we mentioned before, they have studied it in Al Azhar.
Their native language is Arabic. Many new Muslims want to learn the language of the Quran to understand Quran at first and to be good in the language of Islam, so, Egyptian Quran teachers can easily teach them Arabic because it is their native language.
By Egyptian Quran teachers, students can read many Arabic books to understand more about Islam.
Many Arabic books are not available in any language but Arabic. They will practice Arabic every time they have a session with the Egyptian teachers.
Egyptian Quran teachers educate their student's general background of Islam
They provide the students with some truth about Islam and Islamic practices.
Egyptian Quran teachers mostly specialize in Islamic studies
They understand how to teach students and how to provide Islamic teachings and practices for the new Muslims and foreign students.
What do Egyptian Quran teachers provide in there are lessons?
They teach students about Quran and educate them on how to memorize it, they focus on memorizing until the student finishes it verse by verse and Surah by Surah.
Students will study the alphabet, the Arabic alphabet to learn how to pronounce words and the Holy Quran.
They will also study Tajweed, maybe not the whole rules of Tajweed but they will study the required rules to know how to pronounce words and sounds in the Arabic language.
Through Egyptian Quran Teachers, the students will know some general things about the Arabic culture and the Arabic language. Reading Arabic and reciting Quran which is in Arabic too it is so difficult for the new Muslims and non-Ara but by the Quran lessons, they will work on reading Arabic and reciting it correctly. They will not only understand the Arabic language but they will be fluent. Because Arabic is the language of the Holy Quran which was revealed by Allah to our prophet Muhammad.
Recommended Courses

FAQs
Quran teacher from Egypt
Egyptian Quran Teacher Online is a service that connects learners with professional Quran teachers from Egypt. The service offers a flexible means of studying the Quran and Islamic studies from the comfort of your home. With a team of highly qualified, certified and experienced teachers, learners can be sure to receive quality education that equips them with the tools they need to become better Muslims.
The online Quran class service offered by the Egyptian Quran Teacher Online is a personalized learning program tailored to meet the individual needs of each student. Learners have access to a one-on-one learning experience where they can interact with their teachers directly and ask questions when necessary. The teachers use modern teaching tools and techniques to provide an efficient and effective learning experience for all their students.
Students can choose to study the Quran and other Islamic studies at their own pace. They can opt for intensive courses or customized ones that fit their schedule. With flexible timings, the online Quran classes allow students to balance their studies and other commitments effectively. Learning the Quran and other Islamic studies online is a great way to deepen one's understanding of Islam and connect with the larger Muslim community around the globe. Overall, the Egyptian Quran Teacher Online service is an excellent resource for those looking to learn the Quran and Islamic studies in a supportive, convenient and cost-effective manner.
Female Quran teacher Egypt
Egypt has a long-standing history of producing some of the most revered Islamic scholarly figures and teachers. However, in the past few decades, there has been a significant shift in the demographics of those who take on the role of Quran teachers. What was once a male-dominated field, with men occupying the top teaching positions, is now experiencing the rise of female Quran teachers. These women are dedicated to teaching the words of the Quran and instilling morals and values in their students.
Despite facing societal pressures that limit women's mobility outside their homes, female Quran teachers in Egypt continue to challenge these norms by bringing education to women in their communities. They have become a crucial resource for the female Muslim population, as they offer a safe space and the support necessary to pursue Islamic education. Many of these women come from humble backgrounds and face financial constraints, which the teachers accommodate through accessible fees or even by teaching for free.
While the challenges facing female Quran teachers in Egypt remain sizable, these women continue to stand up and inspire others to follow in their footsteps. They represent a new generation of Egyptian women who are unafraid to take on roles that were long considered to be restricted to men. They offer a beacon of hope for female education, with the potential of instilling change in a society that has only recently begun to embrace women's empowerment. In essence, these female Quran teachers embody the essence of perseverance, as they overcome old world patriarchy to make the world a better place for all.
Egypt Quran teacher Online
Egypt is known for its rich Islamic culture and heritage, which is reflected in many aspects of society, including the field of Quran education. As such, many Quran teachers from Egypt have become well-known for their exceptional skills and knowledge in teaching the Quran to students of all ages. These teachers are highly respected and sought after by students from all over the world who want to learn Quranic Arabic, tajweed, and Quranic sciences.
One such Quran teacher is Sheikh Abdul Samad from Egypt. He is one of the most respected Quran teachers in the world, with over 25 years of experience in teaching the Quran. He has a deep understanding of the Quranic sciences and is known for his unique teaching style, which makes learning the Quran easy and enjoyable. He has developed a reputation for helping his students to memorize the Quran with ease by focusing on the proper recitation and pronunciation of the Arabic letters and words.
Another Quran teacher from Egypt who is well-known worldwide is Sheikh Abdul Basit. He was one of the most popular Quran reciters of his time and was renowned for his beautiful voice and unique style of recitation. He was also a great Quran teacher and dedicated his life to spreading the knowledge of the Quran throughout the world. His legacy lives on today, and his recordings are still widely listened to by millions of people around the world who want to learn the Quran and appreciate its beauty and depth.
In conclusion, Quran teachers from Egypt have played a vital role in spreading the knowledge of the Quran to people all over the world. They have dedicated their lives to teaching the Quran and passing down their knowledge to future generations. Their unique teaching styles, deep understanding of the Quranic sciences, and dedication to their students have earned them worldwide respect and admiration. As such, they continue to be a source of inspiration to all those who aspire to learn the Quran and understand its teachings.
Online Quran teacher Egypt
The internet has revolutionized the way we learn and access education, and the field of Islamic education is no exception. In Egypt, there are a growing number of online Quran teachers who are providing remote, one-on-one instruction to students from all over the world. These teachers offer a variety of services, ranging from memorization and recitation of the Quran to tafsir and Quranic Arabic.
Online Quran teachers in Egypt have several advantages over traditional methods of learning. The first advantage is convenience. Students can take lessons from the comfort of their own homes, saving time and money on travel. Additionally, students have the flexibility to choose their own lesson times and can work with teachers at their own pace. Finally, online students have access to a broader pool of teachers, since they are not limited to those in their local area.
However, it is important to note that online Quran education is not without its challenges. One of the main drawbacks is the lack of face-to-face interaction between teachers and students. This can make it difficult for teachers to evaluate students' progress and provide feedback. Additionally, online classes can be subject to technical issues such as internet connectivity or malfunctioning equipment. Nevertheless, with the rapid advancement of technology and the increasing demand for online education, online Quran teachers in Egypt are poised to be an essential resource for anyone seeking to deepen their understanding and practice of Islam.