Online Quran Group Classes For Kids & Adults
Reading and reciting the Quran is one of the best forms of worship and the most beautiful way to get closer to Allah Almighty. This Quran Group Class will serve as an introductory course in the science of Tajweed and Quranic Recitation. This course gives male/female students the chance to start a Quran Study Circle (Halaqah) from the comfort of their own home to work on enhancing Tajweed and improving the recitation of the Holy Quran.
This course has been designed with the highest quality standards and everything is well planned so that learning in a group is easy and helpful for the students who are interested in learning Quran, tajweed, Arabic, or Islamic Studies in a group with their friends or family from experienced tutors.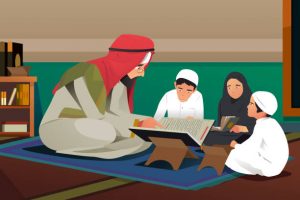 About Course
One of the best benefits of group teaching is that everyone stays motivated, and you always want to perform better. In this course, we have structured the lessons with the help of advanced technology so that we can easily manage this online group course and teachers can focus on each student according to the needs of the students to achieve perfect Quran recitation.
The first step towards perfect Quran recitation is mastering all the Rules of Tajweed. After mastering the Tajweed rules of the Quran, they practice them while reciting the Quran in a group to improve their Qiraat and also help others to recite the Quran easily while applying all the rules.
The focus of this group is to teach the students in such a way that after completing this course, they will have all the Tajweed rules at their fingertips and will recite the Quran easily while applying all the rules. The course is conducted in Arabic and English so that students will not have any difficulty in completing the course.
We offer time flexibility to the students. They can attend the course at any time of the day by discussing it with their tutor. This feature of the course is specifically made for people that don't have sufficient time to spend fixed hours of the day at any institution or madrasa
Why Join This Course
Reading Quran with Tajweed is important and obligatory for every Muslim, as it plays an important role in Quran recitation, and we have to read Quran with its proper pronunciation. So we should make an effort to learn Quranic recitation because the Quran will come to pass for us on the Day of judgment. Not only that, but in this life, man's status will also increase, and he will receive a reward from Allah Almighty.
Learning in a group has many advantages:
– Support each other to improve their Quranic recitation and they help each other achieve this goal.
– Students motivate each other to learn and perform better to improve their recitation.
– Students learn from each other's mistakes and participate attentively in discussions.
– Learning in a group encourages your commitment to an enthusiastic environment.
This course is a unique opportunity for those who want to learn the Quran with Tajweed and recitation online in a digital electronic environment with their friends and family from competent teachers.
Course Outcomes
This Course is the best option for all students who want to learn Tajweed and reach the level of perfection in Quran Recitation. This course will help them learn:-
Quran recitation properly.
Tajweed rules.
Course Description
Our group plan offers the possibility to study what is suitable for you out of:
1- 6 Arabic courses
2- 6 Quran courses
3- 3 Islamic sciences courses
Course Features
Course Instructors
They are well-qualified, with a degree from well-known Islamic universities. They have honed their craft through years of experience in the field. Our native Arab tutors are well-versed in English and conduct the courses with extreme professionalism. They have learned from different scholars and have a grounded knowledge of this domain. They pass a few finely designed tests. Thus, they get the teaching position after going through many evaluation rounds.
Customized Study Plans
One of the main factors that distinguish us is that we do our best to make studying online way easier for you and all your family or friends by giving you the ability to create your own schedule and adjust your available hours at any time of the day to what suits you best to keep the individual needs of students in mind.
Course Prerequisite
Students must be able to read Quran in Arabic properly.
Recommended Courses
Course Structure
Class Type: Group Class

Levels: Intermediate & Advanced

Requirements: Quran Recitation & Tajweed Rules

Age: 10 – 70